Learn G Major On the Entire Fretboard – 10 Minute Bass Practice Workout – Bass Practice Diary – 16th June 2020
This is the second 10 minute bass practice workout that I've posted. This one is specifically designed to help you learn your fretboard up and down by learning the key of G major in every position. These workouts are an example of the kind of practice workout that I often give to my students. The idea is, that if you use your time efficiently, like this, then you can achieve a lot more than you might think in 10 minutes.
The G Major 10 Minute Bass Practice Workout
After releasing the first fretboard workout in full, I got a lot of positive feedback from bass players. So, here is another one.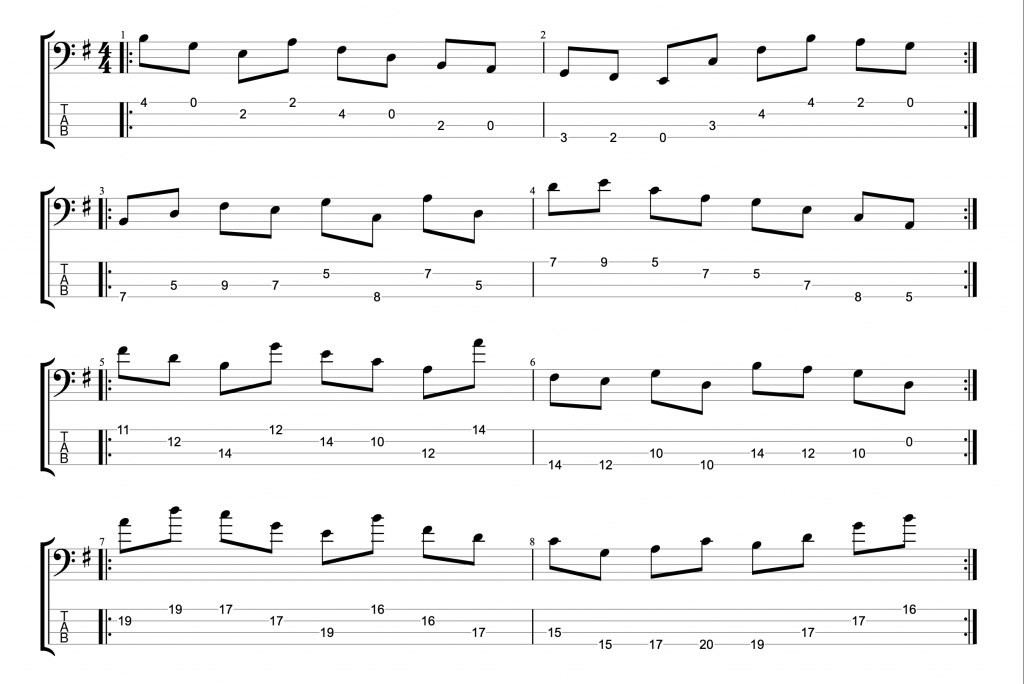 The idea is that you practice each line for 2 minutes (roughly) and then the final 2 minutes is for playing the entire example all together. Each line contains all of the notes in the key of G major in a particular area of the fretboard. For example, the first line covers all of the notes between the open strings and the 4th fret. The second line covers the 5th fret to the 9th fret, and so it goes on up the fretboard until, at the end, I've played every possible note in the key of G major on my 20 fret fretboard in every possible position .
Each 2 minute section of the workout is divided into four tempos, with approximately 30 seconds spent on each tempo. I like to start at a very comfortable (meaning slow) tempo. And then work up to a tempo that challenges me. In this workout, I haven't pushed the tempo up as high as I did previously. The reason is because my main goal here is to learn the notes and positions for G major. Speed is not necessary to achieve that. However I have still increased the tempo because there's no harm in pushing my technique at the same time as learning my fretboard.
Learning Your Bass Fretboard
Learning the notes of every key all over your fretboard is huge. It will make a massive difference to your playing. It probably makes most sense to start with C major, but it doesn't really matter which order you learn the keys in. You can think of this as learning modes as well as keys. When you're learning the key go G major, you're also learning A dorian, B phrygian, C lydian, D mixolydian, E aeolian and F# locrian. It helps if you can practice playing the notes against some kind of harmony, which is why I recorded some diatonic chords in the key of G major to go along with the workout.
Last week I featured a different method for learning the fretboard on my 6-string bass.