Pentatonic Modern Jazz Lick – Bass Practice Diary – 7th April 2020
This week I've written a pentatonic jazz lick to try and demonstrate how pentatonic scales can be applied to modern jazz. If you think that pentatonic scales are just easy scales for beginners then you need to read this. I think Google and YouTube probably need to read this as well, because when you search for pentatonic scales, you get a lot of content that is targeted at beginners.
The Pentatonic Scale
Pentatonic means five notes. So, you could technically have any number of different five note scales that could be labeled pentatonic. But there is one pentatonic scale which is "the" pentatonic scale. The same scale can be used for both major and minor and it goes like this.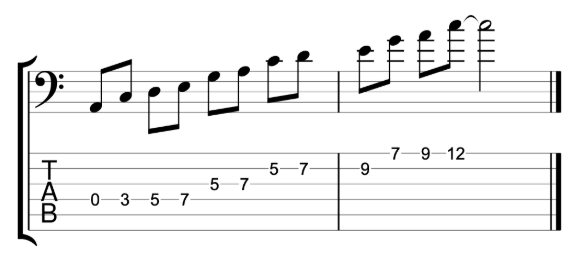 It's an incredibly useful scale because pentatonic melodies are universal. I can't think of many styles of music that don't use pentatonic melodies. They have a very distinctive character.
Many people associate pentatonic melodies with blues guitar playing. But the applications of pentatonic melodies go way beyond blues licks. Not that there's anything wrong with playing blues lines. Blues melodies and phrasing are hugely important in jazz, and blues phrases played well can be both beautiful and sophisticated.
However, it's possible to approach pentatonic melodies in a completely different way. And that's what I'm looking at this week.
One of the great strengths of the pentatonic scale is it's versatility. If you're only using the scale one way, then you've missed part of the point of them. If you take any major key, then you always have three different pentatonic scales within that key. Using the key of D major as an example, you have B minor/D major, E minor/G major and F# minor/A major pentatonic scales all within the key. Each creates a different sound played against a D major chord.
Pentatonic Jazz Lick
My pentatonic jazz lick uses three pentatonic scales in the key of D, but none of them are D major pentatonic. I've used E minor pentatonic scale on the Em7 chord, which is chord II, and I've used the F# minor pentatonic scale on Dmaj7, chord I.
The other scale that I've used is F minor pentatonic. This is a scale which gives you all of the notes that are not in the key of D major. I'm using this scale on an A7 chord, chord V. Why play a scale that uses all the outside notes? To create tension that can be resolved on the one chord (Dmaj7).
Of the five notes in an F minor pentatonic scale, F, Ab, Bb, C & Eb. Four of those notes are altered extensions on an A altered dominant chord, b9, #9, b5 & b13. The other note is Ab. That's not a note you want to feature too prominently on an A7 chord, because it's a major 7th on a dominant chord. You can use it, but you have to be careful how you use it. I've used the Ab once in my lick and it's the last note before resolving to chord I. The Ab functions as a chromatic approach note leading to A natural, which is a chord tone in the Dmaj7 chord. Here's the lick.

Superimposing II V I Licks
I've written the line above onto a II V I in D major. But I wouldn't necessarily choose to play the lick in that context. When I came up with the lick, I was thinking about it more as a straight 1/16th note feel on a funky modal idea.
Jazz musicians love to superimpose II V I lines onto individual chords. You could play that entire lick on a single Em7 chord or Dmaj7 chord or A7 chord.

You could even play it on a G major chord and it would create an inside/outside lick with a lydian sound.