6-String Bass Solo & Chords with Bass TAB & Chord Diagrams – Bass Practice Diary – 14th April 2020
This week I've transcribed a 6-string bass solo that I played in practice. It follows on from what I was doing last week, finding creative ways to use pentatonic scales in jazz solos. These days I often practice the same ideas on both guitar and bass. In this case I started by playing some pretty chords on the guitar. Then I came up with two pentatonic scales, a tone apart, that worked on each chord. So, each chord had a different pair of scales. I then tried to improvise lines on my 6-string bass using the two pentatonic scales plus a third outside scale that sits exactly between the two scales. Using this idea I was trying to create inside/outside jazz lines in the same way I did for my pentatonic jazz lick last week.
The Chords
Having done this I then switched it around. So, I worked out how to play the chords on my 6-string bass and I improvised solo lines using the same system on the guitar. Here are the chords and scales that I used in the video.
The first chord is Emaj9, and the two inside scales are C# minor pentatonic and D# minor pentatonic. The reason I chose those two chords is that I was thinking of the Emaj9 chord as lydian, and those two scales spell out the E lydian sound very well. The outside scale would have been D minor pentatonic, but I didn't use it on the solo I included in the video.
I then played a sequence of major chords over a peddled E bass note. D/E creates an Esus chord and I used the B & C# minor pentatonic scales and C minor pentatonic for the outside notes. Then on C/E I used A & B minor pentatonic and Bb for the outside notes and then A/E I used F# & G# minor pentatonic and G for the outside notes. In each one of these slash chords I was thinking of the major chord as being lydian.
Finally I played an Em9 chord which I treated like a II-V-I in D major, exactly as I did last week. In fact, I tried to used the lick from last weeks video on this chord. I didn't execute it perfectly but the idea still came across.
The Solos
These solos are a long way from being perfect, they represent what I've been working on this week, which is the point of my bass practice diary. I'm including the transcriptions here to help you see my thought processes as I tried to create these lines. But I'm sure that you can take these ideas and improve on what I've done, which is what I'm going to do as well. It's actually a great exercise to transcribe your own solos, because you can immediately think about how you would do it better next time. Here is the bass solo I played in the video.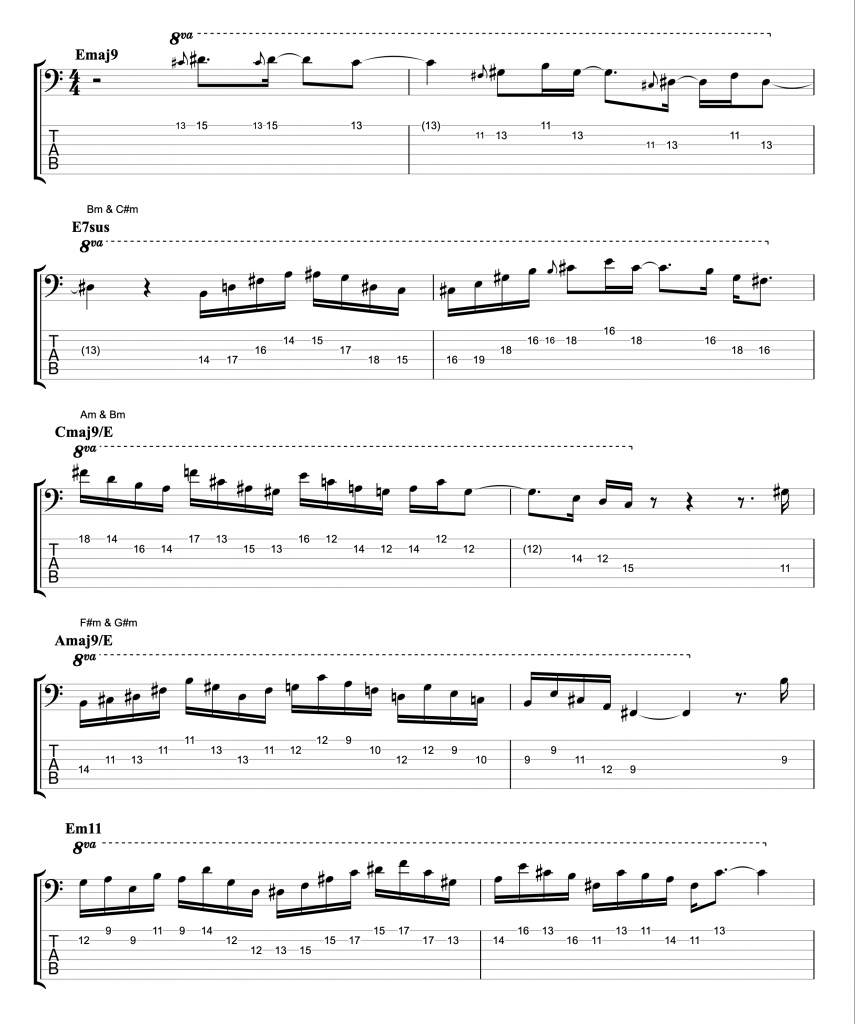 Here is the guitar solo.