Diatonic 7th Arpeggios in C major – Bass Practice Diary – 11th February 2020
In this video I'm playing all the diatonic 7th arpeggios in the key of C major on my 6-string bass. Exercises like this are ideal for learning how to play in any key, in any position on the fretboard. C major is the easiest key to demonstrate this in, because it has no sharps or flats. However, once you can do this in C major, it's easy to transpose into other keys. And you should practice it in different keys.
What are diatonic 7th arpeggios?
Diatonic 7th arpeggios is just a fancy name for a simple idea. 7th chords are chords with four notes, root, 3rd, 5th and 7th. Diatonic 7th chords, just means all of the 7th chords you find in a particular key, like C major in this example. And these arpeggios are just those chords played one note at a time.
Chord I in the key of C major is Cmaj7, which includes the notes C (root), E (3rd), G (5th) and B (7th). You build these arpeggios by taking alternate notes of the C major scale, 1, 3, 5 & 7. Chord II is formed by taking the 2nd (D), 4th (F), 6th (A) and 8th (C) notes of the C major scale. These four notes create a Dm7 chord, and the pattern carries on for the remaining 5 chords in the key of C major, which are Em7, Fmaj7, G7, Am7 & Bm7b5.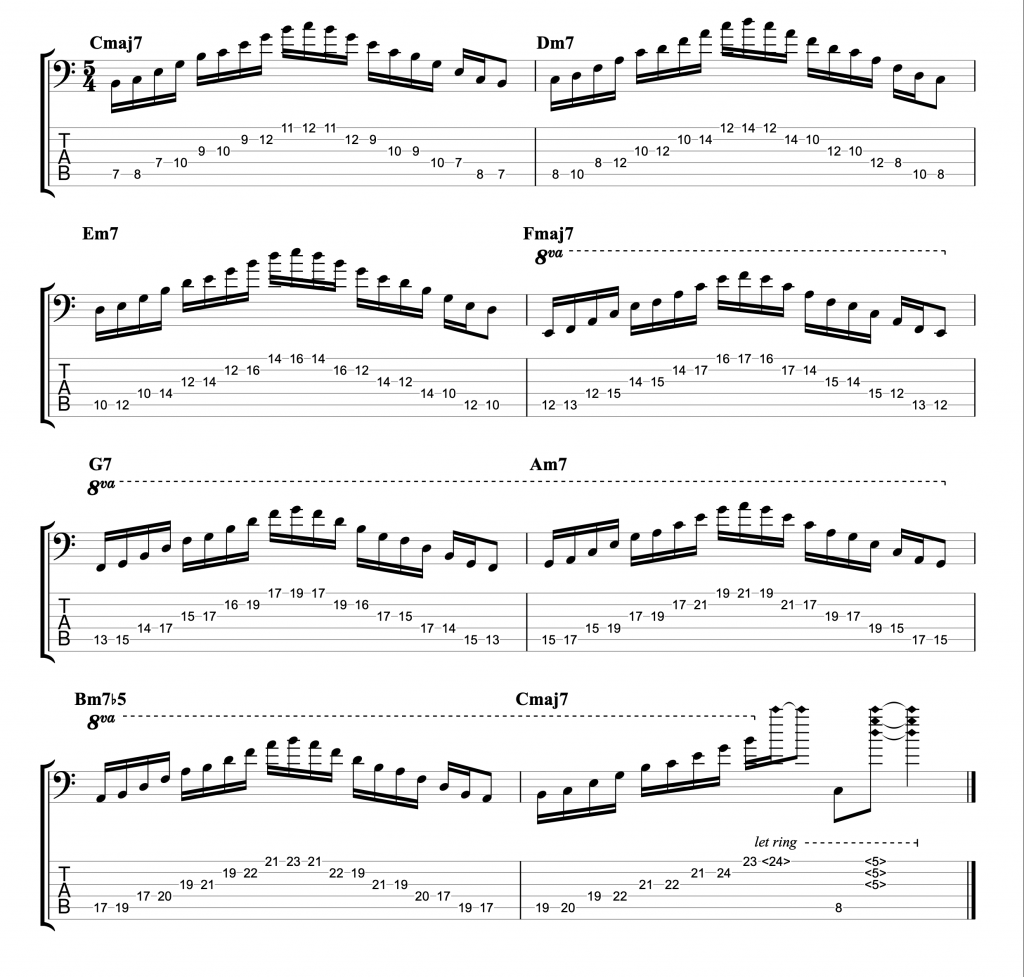 I've arranged the arpeggios with the 7th as the first note, rather than the root. I'm only doing this because I like the way it sounds. And there's no rule that says you must always play arpeggios starting on the root note.
Find my guide to playing minor scales on bass guitar in this video.