10 Minute Bass Fretboard Workout – Play Along With Me – Bass Practice Diary – 12th May 2020
This week I'm posting a 10 minute bass practice workout that I prepared. You can join me by playing along with the video or you can do it at your own pace. Having done a video a few weeks ago talking about "how you should practice rather than what you should practice". I wanted to post a practical demonstration of what I think is a really efficient method of practicing.
The Workout
First I came up with a line which goes like this.

When I was writing the line, I was trying to come up with four bars in which each bar tested something different. But all four bars put together still needed to play like a musical phrase. I wanted the finished line to involve moving both horizontally and vertically on the neck. Meaning position shifting up and down the neck as well as moving across the four strings.
The complete workout involves practicing each bar for two minutes. Then the final two minutes is spent practicing all four bars together. Each two minute section of the workout is divided into four tempos. Roughly 30 seconds each at 60, 90, 120 & 150 beats per minute.
Obviously, if you do this workout on your own, you can customise those tempos to suit you. The principle you should follow is that the first tempo should feel slow, and the last tempo should feel fast. You want to start by practicing really slowly, there's no such thing as "too easy" at this point. There are many really important reasons why you should start at a slow speed. You want to use this time to really think about your timing, your technique, the tone and quality of each note you play, your fingering. And most importantly, you're starting to build up some vital muscle memory which you'll need when the tempo gets quicker.
The last 30 seconds of each two minute section is where you should be really pushing yourself. You want to be making mistakes at this point. If you're not making mistakes at the fastest tempo, then your practice is too easy. It's really important to get the tempos right for you. If you make the practice too easy, you won't be improving as quickly as you could be. If you make the practice too hard you might not improve at all.
Having said that, my advice is to be cautious the first time you do it and make it easy by setting the tempos slower. If it's too easy the first time you try it, you can always push the tempos up the second time you do it. However, if you start out too fast, you probably won't achieve anything.
Four Finger Exercise
The first bar represents one of the most fundamental types of technical exercise on bass guitar. Four finger exercises, or what I call "one finger per fret". These types of exercise are typically done on one string at a time. So I've added the additional element of taking the exercise across the strings and back again.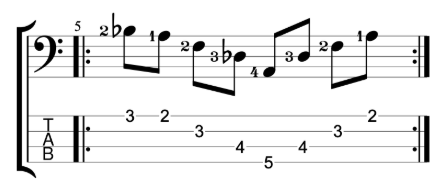 Position Shifting
The second bar adds the element of position shifting up the neck. The bar starts in the 3rd position (meaning 1st finger on the 3rd fret) and then it moves up to 5th and then 6th position.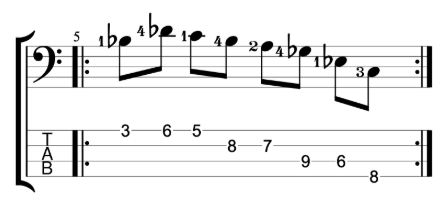 Triad Pairs
Bar 3 is a triad pair. I've done videos about them already this year. Funnily enough, I wasn't even thinking about triad pairs when I came up with the line in my head. When I wrote it down, I realised that it was a Bb minor triad and a C major triad. It just goes to show that when you practice an idea enough, it will start to become instinctive.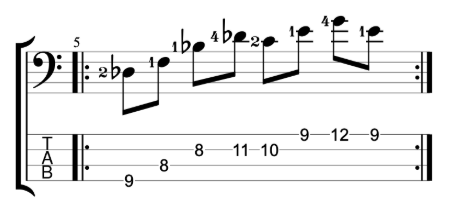 Single String Exercise
The final bar is a single string exercise. I'm using it to practice shifting position up the first string by shifting between my index finger and little finger.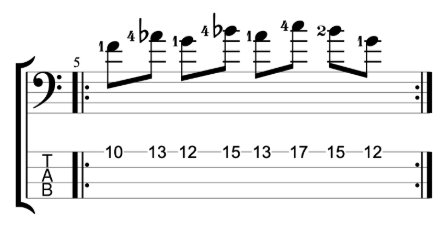 What Should You Do if Your Fingers Hurt?
They probably will. There's a reason that I've called this a workout. Playing the bass is like going to the gym for your fingers. When we're practicing, we're developing muscles in our hands, and discomfort will happen. When it does, it's important to know what to do because over practicing can lead to injuries.
This fretboard workout involves a lot of work for your left hand, particularly your little finger, which might not be used to this much work. If your fingers are feeling very sore 24-48 hours after doing the workout, don't panic. In the fitness world, there is a thing called DOMS (delayed onset muscle soreness). It happens when you work a muscle that isn't yet conditioned to the work you're requiring it to do. It's usually at it's worst 24-48 hours after a workout and it isn't an injury, it will get better after 2-3 days.
If you experience this, it is important to take a break from intense practice, to help the muscles recover. When the soreness feels better, do the workout again. That way you will start to build the strength in your fingers. The DOMS will not be anywhere near as bad after the second time.
Don't make the mistake of thinking "it hurt so I'm not going to do it again". If you practice regularly, it will hurt less and less as your hands get stronger. If you take a break from practicing and then start again, the DOMS will probably come back again because you will have lost some of the conditioning you built up.