This Exercise Might Drive You Crazy! Octave Shifting on Bass – Bass Practice Diary – 30 March 2021
This is an exercise I came up with during a lesson with one of my students. The student in question asked me if we could work on some octave displacement ideas. The idea being that you can start a line in one octave and shift into another octave somewhere in the line. It's actually a very musical way to liven up your lines and bass fills. Here's a simple example.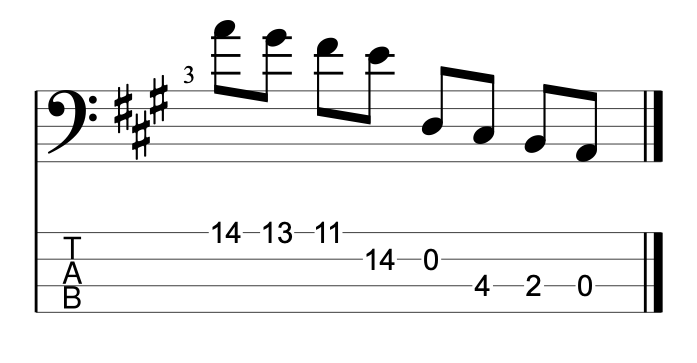 It's essentially just a descending A major scale. It starts on the root note on the 14th fret of the 1st string and it descends to the fifth, E, on the 14th fret of the 2nd string. Then, instead of playing the 4th, D, on the 12th fret of the same string, you can play the open string and continue the scale one octave below. If you're asking why? try using this as a bass fill on a tune in A major, or any of the modes of A major. It's a simple way to make a scale sound like it's not just a scale.
This exercise could drive you crazy
But that's not the exercise that I'm sharing with you today. In the the lesson we asked the question, how can you practice thinking in two different octaves? And that's when I came up with this exercise. I warn you, this is an exercise that messes with your head. It also leads to some big left-hand stretches. So it presents a technical challenge as well as a mental one.
The concept is simple. Take any scale in two octaves. Then play the scale, but shift octaves after every single note. So, you play the first note in the lower octave and the second in the higher octave. Then the third in the lower octave and the fourth in the higher etc. Here is the exercise written out both ascending and descending in the key of A on 4-string bass.

Here is an extended version of the same exercise written for 6-string bass. This time the key is Bb major.