Odd Meter Bass Groove – 7/4 Rock Bass Groove with Bass TAB – Bass Practice Diary – 14th May 2019
This week I've been working on writing play-along pieces for my upcoming book. It will be my second bass book released by Fundamental Changes. The video features a bassline that I wrote for an odd meter rock piece. It's a rock bass groove in 7/4 time signature. You can find my video guide to playing bass in odd meters here.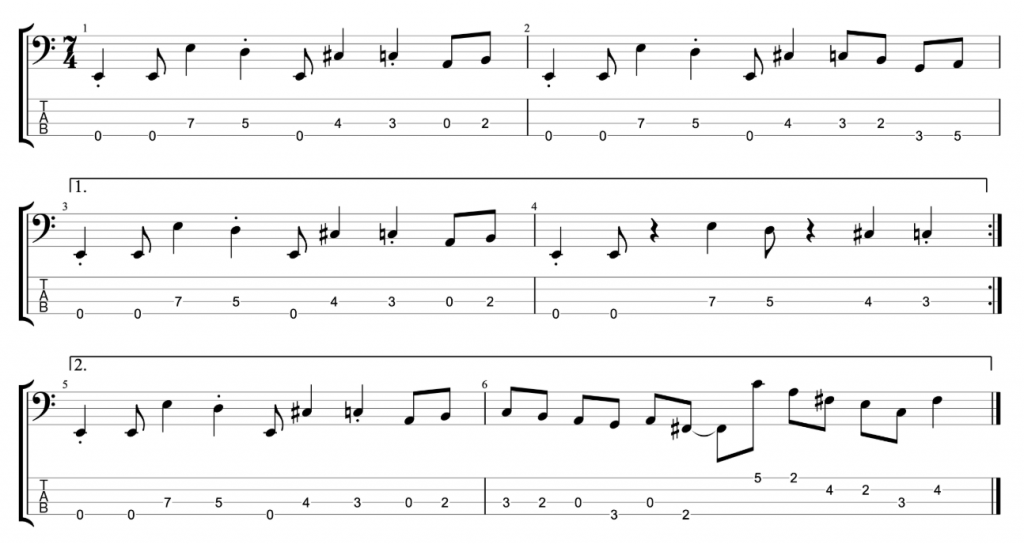 What Are Odd Meters?
The term odd meter simply means any time signature that has an odd number of beats or subdivisions in a bar. Odd meters divide opinion amongst musicians. Some musicians (including me) love them and think they can flow and groove just as well as any groove in 4/4. Others hate playing them.
My approach to playing odd meters is not that different to my approach for playing in any meter. But I think that musicians who are not comfortable playing in odd meters often feel that they have to do something different. And that might be the root cause of why they struggle to play them.
7/4 is an unusual time signature in rock and pop music but there are famous examples of its use. All You Need is Love by The Beatles, Money by Pink Floyd and Times Like These by the Foo Fighters all contain sections in 7/4.